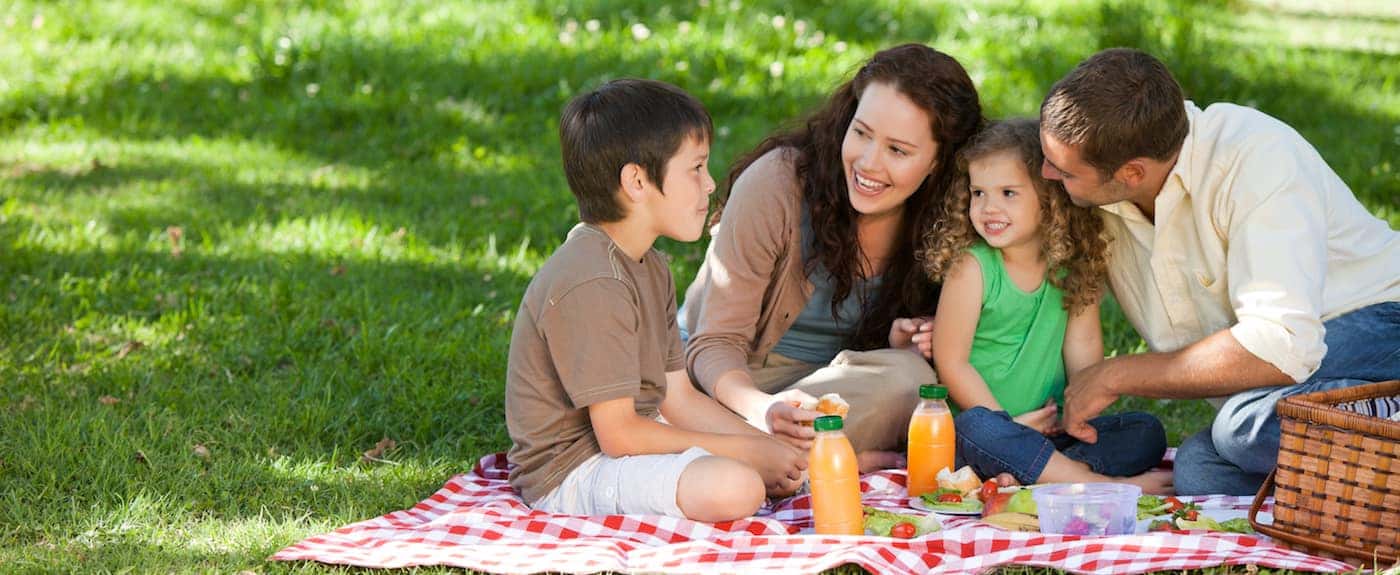 Are you looking for new things to do with your family this summer? How about spending a day at the park for a game of soccer, relaxing in the sun with a delicious picnic, playing a fun game of frisbee with your fur baby, or just having a great day outside in the warm weather as you spend time with the people most important to you. O'Brien Toyota has compiled a list of our favorite Indianapolis parks that your family is sure to enjoy.
Holliday Park in Indianapolis
One of the oldest city parks, Holliday Park, is just six miles north of downtown and encompasses 94-acres of incredible green space. Stop by and explore the park's nature center, play on one of the best, and hard-to-leave playgrounds, or enjoy a small 3.5-mile hiking trail or a light stroll around the Holliday Park Ruins. If you're a scout leader or teacher, this is a great location to bring students on a field trip. With so much to do, you will definitely have to bring your family back for multiple visits.
Address: 6363 Spring Mill Road, Indianapolis, IN
Phone: 317-327-7180
Cost: Free!
Hours: The park is open dawn to dusk seven days a week. The Nature Center is open Monday through Saturday from 9 a.m. to 5 p.m. and Sundays from 1 p.m. to 5 p.m.
Garfield Park in Indianapolis
Garfield Park Conservatory is 10,000 square foot park located in Indianapolis that's home to hundreds of diverse plants from the world's tropics. Even when it's cold outside, you can quickly warm up in the conservatory while exploring plants in full bloom. The Conservatory's sunken garden is a great place to visit on a school trip, or if you're looking for something new and different to do for a birthday party, on a day off from work, or over a long holiday weekend.
Address: 2505 Conservatory Drive, Indianapolis, IN
Phone: 317-327-7183
Conservatory Hours:
Monday – Saturday: 10 a.m. to 5 p.m.
Sunday: 1 p.m. to 5 p.m.*
Sunken Garden Hours:
October 16 – May 17*

Monday – Saturday: 10 a.m. to 5 p.m.
Sunday: 1 p.m. to 5 p.m.*

May 18 – September 15

Monday – Saturday: 10 a.m. to 10 p.m.
Sunday: 1 p.m. to 10 p.m.

September 15 – October 15:

Monday – Saturday: 10 a.m. – 9 p.m.
Sunday: 1 p.m. – 9 p.m.
General Admission: $2 per person; Ages 2 and under are free.**
Paul Ruster Bark Park
If you're new to the area and looking for a place to meet people in the area while your fur baby has lots of space to run around, Paul Ruster Bark Park is the place to check out. Enjoy 82 acres of beautiful trails, a small fishing point, and playground. Don't forget your pooch pass!
Address: 11300 Prospect St., Indianapolis
Phone Number: 317-327-0143
Hours: Daily from dawn to dusk
Prices:
Annual Pooch Pass: $75
VIP Pass: $125
Replacement Tag: $10
Replacement Access Card: $10
Daily Pooch Pass: $5
A discount will be applied on tags for your second and third dogs. Visit the park office with your pup's vaccination records documenting current vaccinations for Rabies, Parvo, Distemper, and Bordetella. Complete the application form, sign the waiver, and pick up the dog park brochure. Contact Paul Ruster Bark Park for additional information.
Get Fun Recommendations & More at O'Brien Toyota
Whether you're looking for date night recommendations, where to see live theater in Indianapolis, the best ice cream in Indianapolis, the best wings in Indianapolis, or how to update the Toyota Entune™ technology, you can always rely on our friendly and helpful team at O'Brien Toyota. Contact us today with any questions!